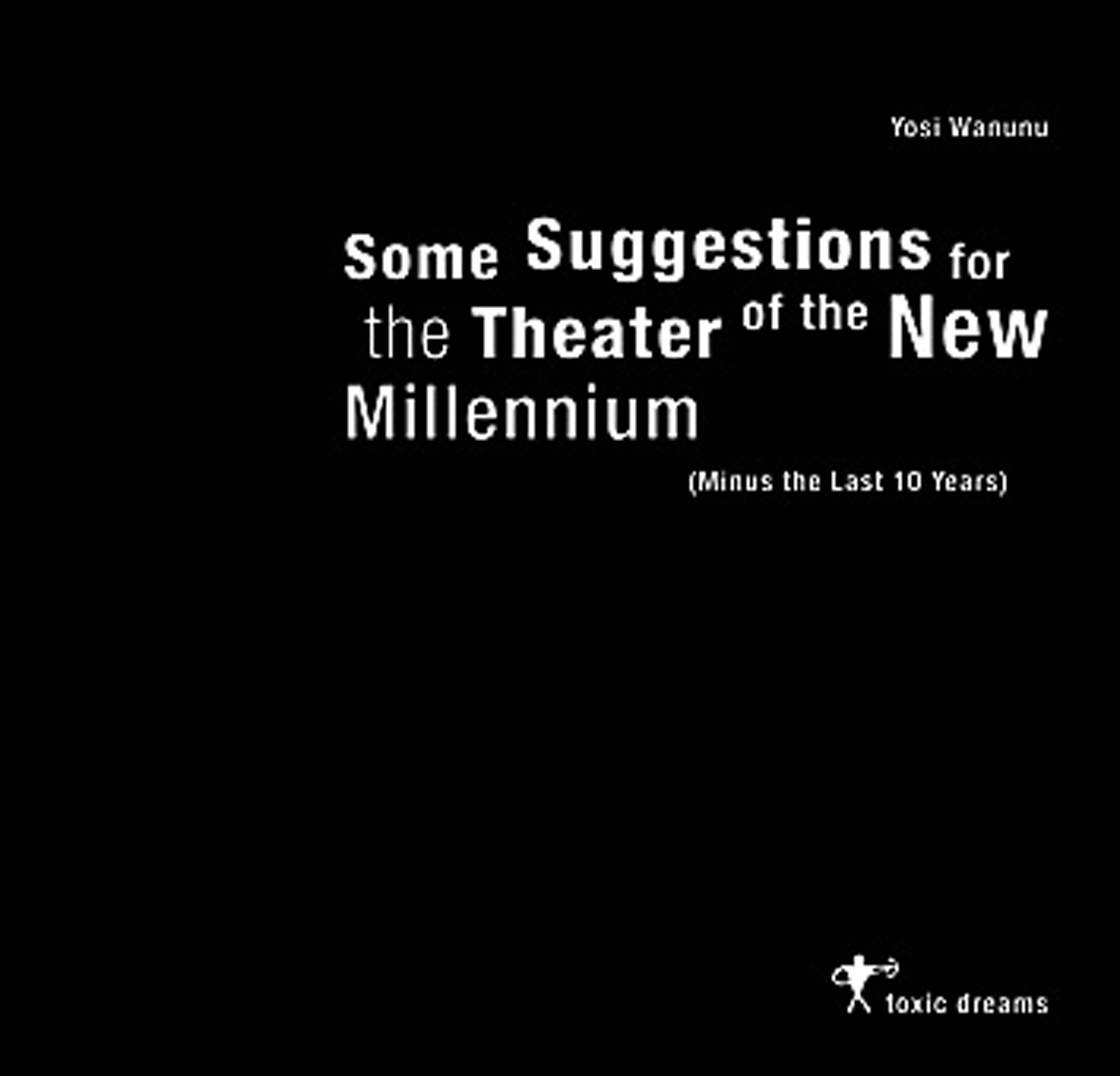 56 pg., published by toxic dreams, 2010
No ISBN, you can send us an email and we will send you a book.
Excerpts from the book
Some Suggestions for the Theater of the New Millennium
(Minus the Last 10 Years)
1
Variations on a theme
To be, be alive, not just keep hanging around.
or,
Not to be, not be alive, to – putting it bluntly – check out, cash in your chips, head west, get lost.
That is, after all, the
overwhelming ultimate question.
3
New subjects for the politically relevant theater (for future reference)
Accountants in motion pictures
Haircutting – religious aspects
Immigrants on television
Middle-aged sexual minorities
Motion picture theater etiquette
Poor whites in literature
Fear of death in literature
Video wrestling games
10
Some ideas for public performances
Artists that get subsidies VS Artists that don't.
Theater artists that do plays VS Theater artists that don't.
Dancers that dance VS Dancers that don't.
Post-dramatic performers VS Dramatic actors.
A black box theater makers VS On-site performers.
Real people that act VS Real actors.
20
Some ideas for performances
All the writing of Michel Foucault in mime.
All the writing of Jacques Lacan danced Merce Cunningham's style.
A silent movie based on the writing of Slavoj Zizek projected into a live performance.
Walter Benjamin's text performed by 3 years-old infants as an onsite installation.
23
Anton Chekhov writes 9 facts about himself on Facebook
They named the character Pavel Chekov from Star Trek after me.
In all the pictures of me I look very sick.
I'm very sick.
People cannot decide if I'm tragic or comic.
I have had few romantic affairs.
I love drinking tea.
When I think back on my childhood it all seems quite gloomy to me.
I don't like Siberian women; you'd have to be a walrus or a seal to have an affair with them.
32
Short scenes for an avant-garde theater group
Two men are sitting at a table. One is crying, the other is laughing. A cup of cappuccino rests in the center of the table, untouched.
(This represents the helplessness men feel when confronted with a cappuccino.)